Aubrey Plumbing Company Services
No matter what plumbing problem you find, Tony Morgan has the experience to
get it fixed. We only use all Original Factory Replacement Parts!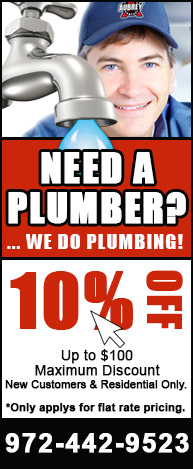 Here are a few plumbing problems and repairs that we are often called for:
Call Us Today! (972) 442-9523
Monday - Friday 8:00 AM - 5:00 PM
We gladly accept the following payment methods.

Why Choose Aubrey Plumbing Company
Excellent customer service and reliability have always been a goal of Aubrey Plumbing Company. We are here to service you and your plumbing needs. Please feel free to contact us with any questions or comments, or to get us out there!